According to a recent report by media and communications analyst firm, SNL Kagan, active tower sites declined for the first time ever in 2014. The report points carrier consolidation as a key factor for the contraction.
The decommissioning of now defunct Nextel towers and the sidelining of redundant sites after the Leap Wireless and Metro PCS acquisitions by AT&T and T-Mobile US are two of the biggest examples.
SNL Kagan predicts this trend will not continue in 2015 due to a few key factors, including:
The explosion of consumer demand for mobile data. Cisco estimates mobile traffic in the U.S. will grow by seven times by 2019.
The AWS-3 auction divvied up lots of new spectrum, which will "generate 

an uptick in lease amendments and corresponding new equipment roll outs." The upcoming 600 MHz incentive auction will also add to the demand for tower sites as carriers look for new places to put their newly acquired spectrum into action.

Public safety network, FirstNet, also has money to spend. They plan a 700 MHz buildout "that could create a new tenant for approximately 20,000-40,000 towers nationwide," according to the report.
T-Mobile US has some decisions to make. It has been rumored to be in merger talks with DISH Network, which has lots of unused spectrum assets. But there is also speculation that the carrier might go it alone and buildout its own network from the ground up. What the "uncarrier" decides to do will have a big impact on the growth of tower acquisitions.
According to the report, Google could also play a role in the future expansion of tower sites. The companies entrance into the field as a wholesaler and Wi-Fi first carrier could "lead to an industrywide rush to improve wireless data throughput that would further enhance demand for cell splitting and new equipment, much like Google has done with 

wireline HSD

."

Wireless industry has followed a steady pattern of growth since 1G was introduced in 1984. About every ten years, a new generation of wireless technology emerges. That is expected to continue into 2020 with the debut of 5G.
The report estimates at the end of 2014, 154,941 towers and nearly 300,000 sites were active in the U.S. This is in contrast to the 96,852 towers and 242,130 sites that were active in 2008 at the beginning of the 4G buildout.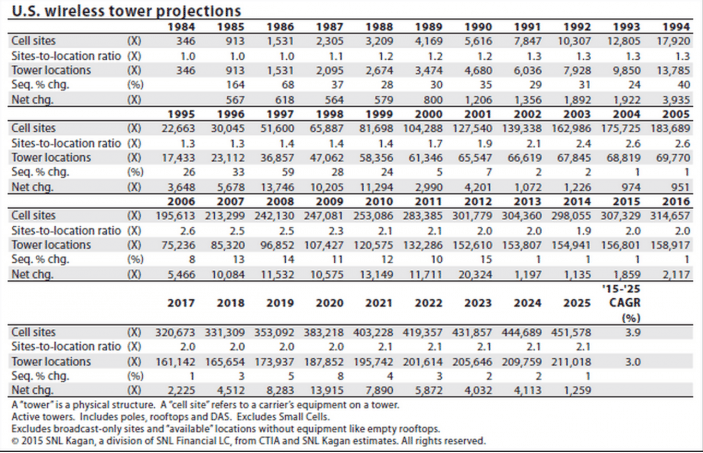 Driven by the spike in mobile data use, by 2025 tower sites will grow at a CAGR of 3.9%, according to the reports projections. It also predicts there could be more than 200,000 towers and over 400,000 sites in use in the next ten years.
The definition of a cell site excludes Small Cells but does include co-locatable Distributed Antenna Systems.
The industry has also seen a steady increase in CapEx to go along with the tower site expansion. SNL Kagan estimates the total U.S. carrier CapEx was about $20.59 billion in 2008 and grew to over $30 billion five years later at the peak of the 4G LTE build out.
"With growth in connected devices, including M2M and tablets, the cost per wireless subscription has had a more modest trajectory, growing from about $6.41 per subscription in 2008 to $7.84 in 2013," the report said. It predicts the trend will continue with the 5G expansion.
But with all this growth, many people are still adamantly opposed to seeing towers in their backyards. This will lead to an increased demand for alternatives. "We think privately held business rooftops are going to be a primary growth area for new tower construction going forward, alongside both indoor and outdoor DAS," the report predicts.
It also estimates "the market share of rooftop system could grow from 21% of the total to 29% while DAS grows its share modestly from 1.4% of the total to 3%."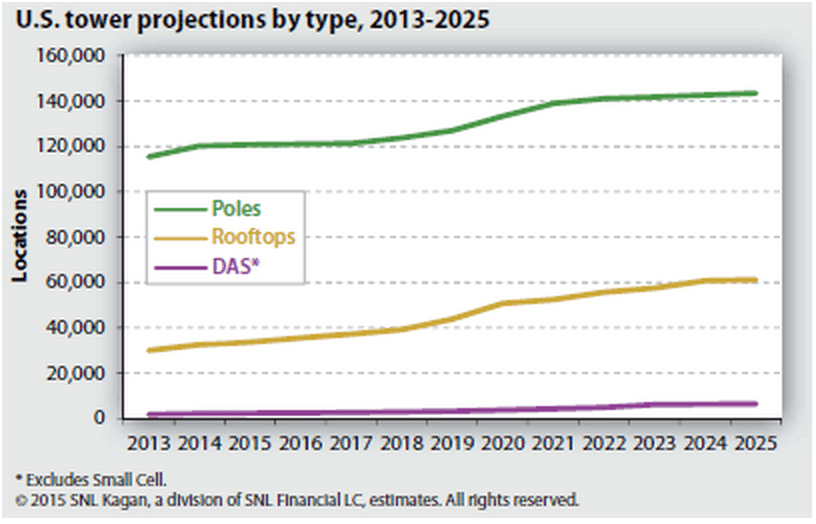 The projection is not as bearish for small cells due to "their low range and general inability to collocate a second tenant."  However, the big three tower companies, American Tower Corp., SBA Communications Corp. and Crown Castle International Corp. have differing opinions on the cell tower alternative. 
Crown Castle has been a big proponent, recently reporting small cells and DAS made up 7% of its site rental revenue in the first quarter. 
But even with Crown Castle on board, the report says it is not tower owners that are fueling the growth of small cells. The majority of deployments are coming from carriers. 
The report does make sure to say that small cells are here to stay. "One thing is certain: the role of small cells will increase in urban U.S. areas over the forecast period where dense populations amplify issues related to cell site congestion."
BY JOEY JACKSON ON 
Via RCR Wireless